Hello!
So, as promised here is my first Animanga Friday post, and in the spirit of Halloween I've decided to go with a spooky top 10 with my ten favourite Horror Anime. Now this list is just personal opinion and at least one of them is very much a guilty pleasure, and there are so many good (and bad) horror anime out there, that I encourage you always to explore the genre!
An honourable mention, because I've based this top 10 on series, is Kakurenbo which is a film that I have watched around Halloween every year since I first saw it at Anime Society back in 2009.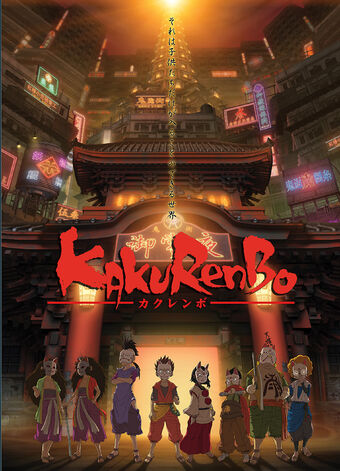 Synopsis:
Among the high rises of steel pipes, meshed power lines, and faded neon lights, exists a game that children dare to play within the ruins of the old city.

"Otokoyo," a secret game of hide-and-seek, one where all who play wear fox masks and only begins when seven have gathered. But it is no normal game, as all who have played it have gone missing. Many whisper it is the work of demons, but that is just a rumor… or is it?

Kakurenbo follows the story of seven children as they play Otokoyo for the first time and discover why if you play, you never return.
TOP 10:
1 – Black Blood Brothers (2006)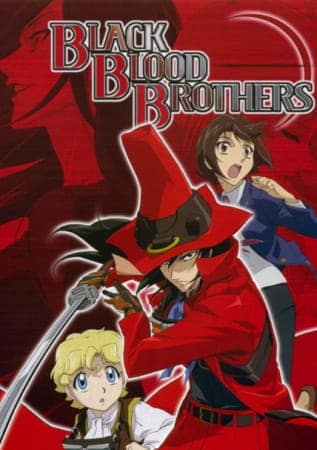 Synopsis:
Ten years after the Holy War in Hong Kong, Mochizuki Jirou, aka the Silver Blade, and the lone hero who fought and defeated the Kowloon Children despite the loss of his lover, returns to Japan with his young brother, Mochizuki Kotarou. The two quickly discover that the Kowloon Children who survived the Holy War are seeking to infiltrate the "Special Zone", a thriving city protected by an invisible barrier that will not allow Kowloon Children entrance, unless they're invited. Red Bloods refers to the humans; Black Bloods are the vampires, and the Mochizuki Brothers are Old Blood, the last descendants of an elite clan of vampires. When Kotarou is abducted by one of the Kowloon Children, Jirou has no choice but to fight once more.
***
This wasn't isn't technically listed as Horror on My Anime List, but it has vampires so I am including it. This is a lesser known series and in my opinion deserves a lot more attention, I love the characters and action, and it's one that I have rewatched too many times.
*** ***
2 – Another (2012)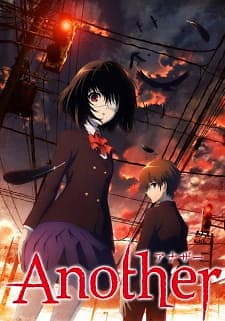 Synopsis:
In 1972, a popular student in Yomiyama North Middle School's class 3-3 named Misaki passed away during the school year. Since then, the town of Yomiyama has been shrouded by a fearful atmosphere, from the dark secrets hidden deep within.

Twenty-six years later, 15-year-old Kouichi Sakakibara transfers into class 3-3 of Yomiyama North and soon after discovers that a strange, gloomy mood seems to hang over all the students. He also finds himself drawn to the mysterious, eyepatch-wearing student Mei Misaki; however, the rest of the class and the teachers seem to treat her like she doesn't exist. Paying no heed to warnings from everyone including Mei herself, Kouichi begins to get closer not only to her, but also to the truth behind the gruesome phenomenon plaguing class 3-3 of Yomiyama North.

Another follows Kouichi, Mei, and their classmates as they are pulled into the enigma surrounding a series of inevitable, tragic events—but unraveling the horror of Yomiyama may just cost them the ultimate price.
***
This is another Halloween tradition. Another always reminds me of those horror stories you tell each other at school, with an added dash of blood, and the most inventive (and possibly only) umbrella related death I've ever seen in any media.
*** ***
3 – Koutetsujou no Kabaneri (Kabaneri of the Iron Fortress) (2016)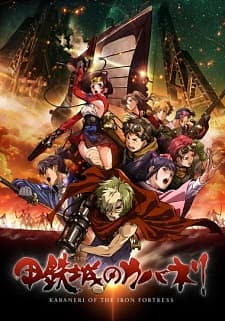 Synopsis:
The world is in the midst of the industrial revolution when horrific creatures emerge from a mysterious virus, ripping through the flesh of humans to sate their never-ending appetite. The only way to kill these beings, known as "Kabane," is by destroying their steel-coated hearts. However, if bitten by one of these monsters, the victim is doomed to a fate worse than death, as the fallen rise once more to join the ranks of their fellow undead.
Only the most fortified of civilizations have survived this turmoil, as is the case with the island of Hinomoto, where mankind has created a massive wall to protect themselves from the endless hordes of Kabane. The only way into these giant fortresses is via heavily-armored trains, which are serviced and built by young men such as Ikoma. Having created a deadly weapon that he believes will easily pierce through the hearts of Kabane, Ikoma eagerly awaits the day when he will be able to fight using his new invention. Little does he know, however, that his chance will come much sooner than he expected…
***
The animation in this one is absolutely stunning, and it is an interesting take on zombies with a steampunk-esque technology. I think I came across it as a recommendation after watching Attack on Titan, and I would second that.
*** ***
4 – Hellsing (2001-2002)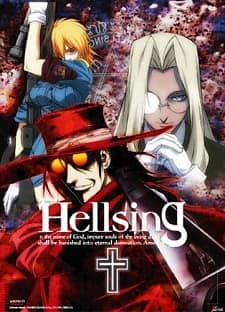 Synopsis:
Hellsing, an organization specializing in dealing with supernatural threats, is called in to eliminate a vampire that is turning the villagers of Cheddar into ghouls. To put an end to this, the leader of the organization, Sir Integra Fairbrook Wingates Hellsing, dispatches her most formidable asset: a powerful vampire known as Alucard.
Armed with only a single handgun, Alucard wreaks havoc on the monsters plaguing Cheddar. However, a young police officer, Seras Victoria, gets caught up in the chaos and becomes mortally wounded as a result. Taking pity on the girl, Alucard gives her a choice: die as a human or live on as a vampire. Seras accepts his offer and begins a new life as a member of Hellsing.
Though it was her decision, Seras struggles with the fact that she is no longer human. Nevertheless, she must embrace being a creature of the night soon if she wants to survive on the front lines in the fight between humans and the supernatural.
***
Bloody, violent and dark. Hellsing has it all (and I would also recommend Hellsing Ultimate), along with memorable characters and a very distinctive art style.
*** ***
5 – Kiseijuu: Sei no Kakuritsu (Parasyte – the maxim -) (2014-2015)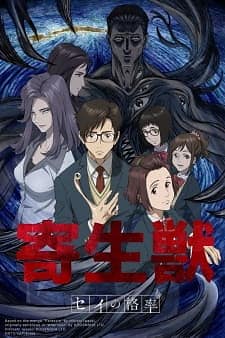 Synopsis:
All of a sudden, they arrived: parasitic aliens that descended upon Earth and quickly infiltrated humanity by burrowing into the brains of vulnerable targets. These insatiable beings acquire full control of their host and are able to morph into a variety of forms in order to feed on unsuspecting prey.
Sixteen-year-old high school student Shinichi Izumi falls victim to one of these parasites, but it fails to take over his brain, ending up in his right hand instead. Unable to relocate, the parasite, now named Migi, has no choice but to rely on Shinichi in order to stay alive. Thus, the pair is forced into an uneasy coexistence and must defend themselves from hostile parasites that hope to eradicate this new threat to their species.
***
This one has some excellent body horror and some very dark story lines, and the fight scenes were absolutely fantastic. This was one that I wasn't sure about when I first started watching it, and I fell in love with everything about it.
*** ***
6 – Tokyo Ghoul (2014)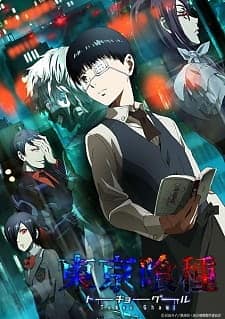 Synopsis:
Tokyo has become a cruel and merciless city—a place where vicious creatures called "ghouls" exist alongside humans. The citizens of this once great metropolis live in constant fear of these bloodthirsty savages and their thirst for human flesh. However, the greatest threat these ghouls pose is their dangerous ability to masquerade as humans and blend in with society.

Based on the best-selling supernatural horror manga by Sui Ishida, Tokyo Ghoul follows Ken Kaneki, a shy, bookish college student, who is instantly drawn to Rize Kamishiro, an avid reader like himself. However, Rize is not exactly who she seems, and this unfortunate meeting pushes Kaneki into the dark depths of the ghouls' inhuman world. In a twist of fate, Kaneki is saved by the enigmatic waitress Touka Kirishima, and thus begins his new, secret life as a half-ghoul/half-human who must find a way to integrate into both societies.
***
I've behind on this one, but I've watched the first two seasons and I loved it. The animation is fantastic, some of the story lines broke my heart, and overall it was an absolutely brilliant series and poor Kaneki.
*** ***
7 – Shiki (2010)
Synopsis:
Fifteen-year-old Megumi Shimizu dreamed of a glamorous life in the big city; however, her unexpected death in the quiet village of Sotoba marks the beginning of what appears to be a ferocious epidemic that turns the hot summer into a season of blood and terror. A young doctor named Toshio Ozaki begins to doubt the nature of the disease and comes to understand that to discover the truth, he must abandon his humanity. Meanwhile, Natsuno Yuuki, an antisocial youth from the city, is haunted by the sudden death of Megumi and must realize the pain of friendship in the face of his own tragedy. Toshio and Natsuno form an unlikely pair as they work together to save Sotoba before it transforms into a ghost town of vampires.

Shiki, adapted from the horror novel written by Fuyumi Ono, goes beyond the average vampire story. It tells the tragic tale of survival in a world where one cannot easily distinguish between good and evil. Abandoned by God, the Shiki, as the vampires call themselves, have only their will to live as they clash with the fear of the paranoid/unbelieving villagers. Shiki explores the boundary that separates man from monster.
***
This one has such a fantastically distinctive art style (the eyes creep me out), and is both a fantastic vampire story, but also delves much deeper into the question of good and evil, and is one that I am long overdue rewatching.
*** ***
8 – Elfen Lied (2004)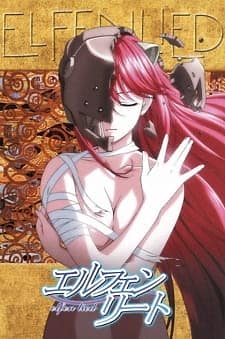 Synopsis:
Lucy is a special breed of human referred to as "Diclonius," born with a short pair of horns and invisible telekinetic hands that lands her as a victim of inhumane scientific experimentation by the government. However, once circumstances present her an opportunity to escape, Lucy, corrupted by the confinement and torture, unleashes a torrent of bloodshed as she escapes her captors.
During her breakout, she receives a crippling head injury that leaves her with a split personality: someone with the mentality of a harmless child possessing limited speech capacity. In this state of instability, she stumbles upon two college students, Kouta and his cousin Yuka, who unknowingly take an injured fugitive into their care, unaware of her murderous tendencies. This act of kindness will change their lives, as they soon find themselves dragged into the shadowy world of government secrecy and conspiracy.
***
This one is incredibly violent, with lots of blood and some interesting deaths, but I really like the story and characters and the animation style, and its another one I don't see talked about enough.
*** ***
9 – Tasogare Otome x Amnesia (Dusk Maiden of Amnesia) (2012)
Synopsis:
Seikyou Private Academy, built on the intrigue of traditional occult myths, bears a dark past—for 60 years, it has been haunted by a ghost known as Yuuko, a young woman who mysteriously died in the basement of the old school building. With no memory of her life or death, Yuuko discreetly finds and heads the Paranormal Investigations Club in search of answers.

A chance meeting leads Yuuko to cling to diligent freshman Teiichi Niiya, who can see the quirky ghost, they quickly grow close, and he decides to help her. Along with Kirie Kanoe, Yuuko's relative, and the oblivious second year Momoe Okonogi, they delve deep into the infamous Seven Mysteries of the storied school.

Tasogare Otome x Amnesia tells a unique tale of students who work together to shed light on their school's paranormal happenings, all the while inching closer to the truth behind Yuuko's death.
***
CHOIR JAIL! The animation is beautiful, the characters are great and there were some interesting twists in the story, but it is the opening that you will always remember. We ended up singing it every time in the anime society, and it helps that there are some lovely autumnal vibes to the opening.
*** ***
10 – Highschool of the Dead (2010)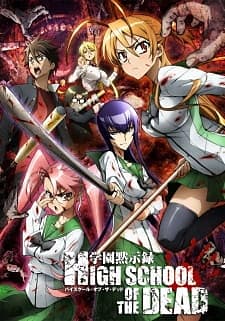 Synopsis:
It happened suddenly: The dead began to rise and Japan was thrown into total chaos. As these monsters begin terrorizing a high school, Takashi Kimuro is forced to kill his best friend when he gets bitten and joins the ranks of the walking dead. Vowing to protect Rei Miyamoto, the girlfriend of the man he just executed, they narrowly escape their death trap of a school, only to be greeted with a society that has already fallen.
Soon, Takashi and Rei band together with other students on a journey to find their family members and uncover what caused this overwhelming pandemic. Joining them is Saeko Busujima, the beautiful president of the Kendo Club; Kouta Hirano, an otaku with a fetish for firearms; Saya Takagi, the daughter of an influential politician; and Shizuka Marikawa, their hot school nurse. But will the combined strength of these individuals be enough to conquer this undead apocalypse?
***
This one is a guilty pleasure, because I absolutely love it and it has a good story. But good lord does it have a lot of fanservice, so if you don't like fanservice (especially in excessive amounts) this one will not be for you, but I couldn't leave it off my list.
*** ***
Have you seen any of these? What are your favourite horror anime, and any recommendations as Halloween is all but around the corner.

Rowena