Hello!
Today I am kicking off things for Sci-Fi Month with a list of 20 Sci-Fi Anime that I think people should watch. This is a completely subjective list, and there is so much Sci-Fi anime out there that I have probably missed some obvious ones. For this list, I have stuck to anime I have seen and TV Series only, but I have tried to go for a mixture of older and more modern anime and a mix of genres alongside Sci-Fi.
Tengen Toppa Gurren Lagann – 27 Episodes (2007)
Genre: Action, Adventure, Comedy, Mecha, Sci-Fi
Simon and Kamina were born and raised in a deep, underground village, hidden from the fabled surface. Kamina is a free-spirited loose cannon bent on making a name for himself, while Simon is a timid young boy with no real aspirations. One day while excavating the earth, Simon stumbles upon a mysterious object that turns out to be the ignition key to an ancient artifact of war, which the duo dubs Lagann. Using their new weapon, Simon and Kamina fend off a surprise attack from the surface with the help of Yoko Littner, a hot-blooded redhead wielding a massive gun who wanders the world above.
In the aftermath of the battle, the sky is now in plain view, prompting Simon and Kamina to set off on a journey alongside Yoko to explore the wastelands of the surface. Soon, they join the fight against the "Beastmen," humanoid creatures that terrorize the remnants of humanity in powerful robots called "Gunmen." Although they face some challenges and setbacks, the trio bravely fights these new enemies alongside other survivors to reclaim the surface, while slowly unraveling a galaxy-sized mystery.
*** ***
Psycho Pass – 22 Episodes (2012-2013)
Genre: Action, Sci-Fi, Police, Psychological
Justice, and the enforcement of it, has changed. In the 22nd century, Japan enforces the Sibyl System, an objective means of determining the threat level of each citizen by examining their mental state for signs of criminal intent, known as their Psycho-Pass. Inspectors uphold the law by subjugating, often with lethal force, anyone harboring the slightest ill-will; alongside them are Enforcers, jaded Inspectors that have become latent criminals, granted relative freedom in exchange for carrying out the Inspectors' dirty work.
Into this world steps Akane Tsunemori, a young woman with an honest desire to uphold justice. However, as she works alongside veteran Enforcer Shinya Kougami, she soon learns that the Sibyl System's judgments are not as perfect as her fellow Inspectors assume. With everything she has known turned on its head, Akane wrestles with the question of what justice truly is, and whether it can be upheld through the use of a system that may already be corrupt.
*** ***
Trigun – 26 Episodes (1998)
Genre: Action, Sci-Fi, Adventure, Comedy, Drama, Shounen
Vash the Stampede is the man with a $$60,000,000,000 bounty on his head. The reason: he's a merciless villain who lays waste to all those that oppose him and flattens entire cities for fun, garnering him the title "The Humanoid Typhoon." He leaves a trail of death and destruction wherever he goes, and anyone can count themselves dead if they so much as make eye contact—or so the rumors say. In actuality, Vash is a huge softie who claims to have never taken a life and avoids violence at all costs.
With his crazy doughnut obsession and buffoonish attitude in tow, Vash traverses the wasteland of the planet Gunsmoke, all the while followed by two insurance agents, Meryl Stryfe and Milly Thompson, who attempt to minimize his impact on the public. But soon, their misadventures evolve into life-or-death situations as a group of legendary assassins are summoned to bring about suffering to the trio. Vash's agonizing past will be unraveled and his morality and principles pushed to the breaking point.
*** ***
Darker than Black: Kuro no Keiyakusha – 25 Episodes (2007)
It has been 10 years since Heaven's Gate appeared in South America and Hell's Gate appeared in Japan, veiling the once familiar night sky with an oppressive skyscape. Their purposes unknown, these Gates are spaces in which the very laws of physics are ignored. With the appearance of the Gates emerged Contractors, who, in exchange for their humanity, are granted supernatural abilities.
In the Japanese city surrounding Hell's Gate, Section 4 Chief Misaki Kirihara finds herself at odds with an infamous Contractor codenamed Hei. Called "Black Reaper" in the underground world, Hei, like his associates, undertakes missions for the mysterious and ruthless Syndicate while slowly peeling back the dark layers covering a nefarious plot that threatens the very existence of Contractors.
From the mind of Tensai Okamura comes a sci-fi thriller taking the form of a subtle exposé on a war in which political positions and justice have no sway—a war waged exclusively in the shadows.
*** ***
Cowboy Bebop – 26 Episodes (1998-1999)
Genre: Action, Adventure, Comedy, Drama, Sci-Fi, Space
In the year 2071, humanity has colonized several of the planets and moons of the solar system leaving the now uninhabitable surface of planet Earth behind. The Inter Solar System Police attempts to keep peace in the galaxy, aided in part by outlaw bounty hunters, referred to as "Cowboys." The ragtag team aboard the spaceship Bebop are two such individuals.

Mellow and carefree Spike Spiegel is balanced by his boisterous, pragmatic partner Jet Black as the pair makes a living chasing bounties and collecting rewards. Thrown off course by the addition of new members that they meet in their travels—Ein, a genetically engineered, highly intelligent Welsh Corgi; femme fatale Faye Valentine, an enigmatic trickster with memory loss; and the strange computer whiz kid Edward Wong—the crew embarks on thrilling adventures that unravel each member's dark and mysterious past little by little.

Well-balanced with high density action and light-hearted comedy, Cowboy Bebop is a space Western classic and an homage to the smooth and improvised music it is named after.
*** ***
Code Geass: Hangyaku no Lelouch (Code Geass: Lelouch of the Rebellion) – 25 Episodes (2006-2007)
Genre: Action, Military, Sci-Fi, Super Power, Drama, Mecha, School
In the year 2010, the Holy Empire of Britannia is establishing itself as a dominant military nation, starting with the conquest of Japan. Renamed to Area 11 after its swift defeat, Japan has seen significant resistance against these tyrants in an attempt to regain independence.
Lelouch Lamperouge, a Britannian student, unfortunately finds himself caught in a crossfire between the Britannian and the Area 11 rebel armed forces. He is able to escape, however, thanks to the timely appearance of a mysterious girl named C.C., who bestows upon him Geass, the "Power of Kings." Realizing the vast potential of his newfound "power of absolute obedience," Lelouch embarks upon a perilous journey as the masked vigilante known as Zero, leading a merciless onslaught against Britannia in order to get revenge once and for all.
*** ***
Susei no Gargantia (Gargantia on the Verdurous Planet) – 13 Episodes (2013)
Genre: Action, Sci-Fi, Adventure, Mecha
In the distant future, a majority of humans have left the Earth, and the Galactic Alliance of Humanity is founded to guide exploration and ensure the prosperity of mankind. However, a significant threat arises in the form of strange creatures called Hideauze, resulting in an interstellar war to prevent humanity's extinction. Armed with Chamber, an autonomous robot, 16-year-old lieutenant Ledo of the Galactic Alliance joins the battle against the monsters. In an unfortunate turn of events, Ledo loses control during the battle and is cast out to the far reaches of space, crash-landing on a waterlogged Earth.
On the blue planet, Gargantia—a large fleet of scavenger ships—comes across Chamber and retrieves it from the ocean, thinking they have salvaged something of value. Mistaking their actions for hostility, Ledo sneaks aboard and takes a young messenger girl named Amy hostage, only to realize that the residents of Gargantia are not as dangerous as he had believed. Faced with uncertainty, and unable to communicate with his comrades in space, Ledo attempts to get his bearings and acclimate to a new lifestyle. But his peaceful days are about to be short-lived, as there is more to this ocean-covered planet than meets the eye.
*** ***
Steins;Gate – 24 Episodes (2011)
Genre: Thriller, Sci-Fi
The self-proclaimed mad scientist Rintarou Okabe rents out a room in a rickety old building in Akihabara, where he indulges himself in his hobby of inventing prospective "future gadgets" with fellow lab members: Mayuri Shiina, his air-headed childhood friend, and Hashida Itaru, a perverted hacker nicknamed "Daru." The three pass the time by tinkering with their most promising contraption yet, a machine dubbed the "Phone Microwave," which performs the strange function of morphing bananas into piles of green gel.

Though miraculous in itself, the phenomenon doesn't provide anything concrete in Okabe's search for a scientific breakthrough; that is, until the lab members are spurred into action by a string of mysterious happenings before stumbling upon an unexpected success—the Phone Microwave can send emails to the past, altering the flow of history.

Adapted from the critically acclaimed visual novel by 5pb. and Nitroplus, Steins;Gate takes Okabe through the depths of scientific theory and practicality. Forced across the diverging threads of past and present, Okabe must shoulder the burdens that come with holding the key to the realm of time.
*** ***
Gatchaman Crowds – 12 Episodes (2013)
Genre: Sci-Fi, Adventure
Hajime Ichinose's ordinary life is in for a change when a transcendent being named J.J Robinson hands her a small book called NOTE—a device which transforms her into one of the Gatchaman, the legendary protectors of Tachikawa City. Stressing that the existence of their group must remain a secret, fellow Gatchaman Sugane Tachibana takes Hajime to their base of operations, where Paiman, the panda-like alien leader of the Gatchaman, reveals their purpose: to eliminate aliens that pose a danger to humanity. These existential threats, called MESS, are becoming increasingly dangerous, destroying everything they touch. Now it's up to the Gatchaman and their new recruit to stop them before the world is engulfed in chaos.
***
Gatchaman Crowds: Insight – 12 Episodes (2015)
Genre: Adventure, Sci-Fi
One day, a huge UFO spins over Japan and crashes into a rural farmland outside Nagaoka, disrupting Tsubasa Misudachi's ordinary life. As the Gatchaman, the legendary defenders of Tachikawa City, supervise the ordeal, a peaceful alien creature emerges from the spacecraft. In the ensuing chaos, Tsubasa is given a special high-tech notebook, or NOTE, from Gatchaman founder J.J. Robinson, signaling Tsubasa's sudden recruitment into their group. Under the tutelage of fellow hero Hajime Ichinose, Tsubasa slowly begins to adjust to life as a defender of justice.
Meanwhile, the CROWDS technology, which enables users to manifest their consciousness' into a physical form, is spreading amongst the public, as well as being endorsed by Prime Minister Sugayama. However, a mysterious organization known as VAPE has gained notoriety by using unique red CROWDS to wreak havoc, shifting public opinion against the CROWDS technology. The Gatchaman, along with new recruit Tsubasa, must put a stop to their destructive activities before it's too late.
*** ***
Tiger & Bunny – 26 Episodes (2011)
Genre: Action, Mystery, Comedy, Super Power
In Stern Bild City, those with special abilities are called "NEXT," and can use their powers for good or bad. A unique organized group of NEXT appear regularly on Hero TV, where they chase down evildoers to bring limelight to their sponsors and earn Hero Points in the hopes of becoming the next "King of Heroes."
Kotetsu T. Kaburagi, known as "Wild Tiger," is a veteran hero whose performance has been dwindling as of late, partially due to his inability to cooperate with other heroes. After a disappointing season in which most of the other heroes far outperformed Tiger, he is paired up with a brand new hero who identifies himself by his real name—Barnaby Brooks Jr.
Barnaby, nicknamed "Bunny" by his frivolous new partner, quickly makes it clear that the two could not be more different. Though they mix as well as oil and water, Tiger and Bunny must learn to work together, both for the sake of their careers and to face the looming threats within Stern Bild.
*** ***
No. 6 – 11 Episodes (2011)
Genre: Action, Sci-Fi, Mystery, Drama
Many years ago, after the end of a bloody world war, mankind took shelter in six city-states that were peaceful and perfect… at least on the surface. However, Shion—an elite resident of the city-state No. 6—gained a new perspective on the world he lives in, thanks to a chance encounter with a mysterious boy, Nezumi. Nezumi turned out to be just one of many who lived in the desolate wasteland beyond the walls of the supposed utopia. But despite knowing that the other boy was a fugitive, Shion decided to take him in for the night and protect him, which resulted in drastic consequences: because of his actions, Shion and his mother lost their status as elites and were relocated elsewhere, and the darker side of the city began to make itself known.
Now, a long time after their life-altering first meeting, Shion and Nezumi are finally brought together once again—the former elite and the boy on the run are about to embark on an adventure that will, in time, reveal the shattering secrets of No. 6.
*** ***
Koukaku Kidoutai: Stand Alone Complex (Ghost in the Shell: Stand Alone Complex) – 26 Episodes (2002-2003)
In the not so distant future, mankind has advanced to a state where complete body transplants from flesh to machine is possible. This allows for great increases in both physical and cybernetic prowess and blurring the lines between the two worlds. However, criminals can also make full use of such technology, leading to new and sometimes, very dangerous crimes. In response to such innovative new methods, the Japanese Government has established Section 9, an independently operating police unit which deals with such highly sensitive crimes.
Led by Daisuke Aramaki and Motoko Kusanagi, Section 9 deals with such crimes over the entire social spectrum, usually with success. However, when faced with a new A level hacker nicknamed "The Laughing Man," the team is thrown into a dangerous cat and mouse game, following the hacker's trail as it leaves its mark on Japan.
*** ***
Kiznaiver – 12 Episodes (2016)
Katsuhira Agata is a quiet and reserved teenage boy whose sense of pain has all but vanished. His friend, Chidori Takashiro, can only faintly remember the days before Katsuhira had undergone this profound change. Now, his muffled and complacent demeanor make Katsuhira a constant target for bullies, who exploit him for egregious sums of money. But their fists only just manage to make him blink, as even emotions are far from his grasp.
However, one day Katsuhira, Chidori, and four other teenagers are abducted and forced to join the Kizuna System as official "Kiznaivers." Those taking part are connected through pain: if one member is injured, the others will feel an equal amount of agony. These individuals must become the lab rats and scapegoats of an incomplete system designed with world peace in mind. With their fates literally intertwined, the Kiznaivers must expose their true selves to each other, or risk failing much more than just the Kizuna System.
*** ***
Dimension W – 12 Episodes (2016)
Genre: Action, Sci-Fi, Seinen
In the near future, humans have discovered a fourth dimension, Dimension W, and a supposedly infinite source of energy within. In order to harness this profound new energy, mankind develops advanced "coils," devices that link to and use the power of Dimension W. However, by year 2071, the New Tesla Energy corporation has monopolized the energy industry with coils, soon leading to the illegal distribution of unofficial coils that begin flooding the markets.
Kyouma Mabuchi is an ex-soldier who is wary of all coil-based technology to the extent that he still drives a gas-powered car. Kyouma is a "Collector," individuals with the sole duty of hunting down illegal coils in exchange for money. What started out as just any other mission is turned on its head when he bumps in Mira Yurizaki, an android with a connection to the "father" of coils. When a series of strange events begin to take place, these two unlikely allies band together to uncover the mysteries of Dimension W.
*** ***
Eve no Jikan (Time of Eve) – 6 Episodes (2008-2009)
Genre: Sci-Fi (Slice of Life)
In future Japan, in a time when android housekeepers have become commonplace, society strictly abides by the Three Laws of Robotics, which all androids must follow. Under the influence of the Robot Ethics Committee, androids are treated the same way as lesser technology, such as household appliances. However, a minority with an adoration for androids exists, categorized as "android-holics," and are shunned by the general public.
Rikuo Sakisaka was raised to accept society's precept about androids, and is perfectly aware that they are not human. That is, until the day he discovers a strange message buried within the activity logs of his household android, Sammy. This leads him to Eve no Jikan, a cafe with only one rule that its patrons must adhere to: there must be no distinction made between humans and androids. Curiosity drives Rikuo to learn more about the shop, and he attempts to unearth the reason behind Sammy's peculiar behavior.
*** ***
Neon Genesis Evangelion – 26 episodes (1995-1996)
Genre: Action, Sci-Fi, Psychological, Drama, Mecha
In the year 2015, the world stands on the brink of destruction. Humanity's last hope lies in the hands of Nerv, a special agency under the United Nations, and their Evangelions, giant machines capable of defeating the Angels who herald Earth's ruin. Gendou Ikari, head of the organization, seeks compatible pilots who can synchronize with the Evangelions and realize their true potential. Aiding in this defensive endeavor are talented personnel Misato Katsuragi, Head of Tactical Operations, and Ritsuko Akagi, Chief Scientist.

Face to face with his father for the first time in years, 14-year-old Shinji Ikari's average life is irreversibly changed when he is whisked away into the depths of Nerv, and into a harrowing new destiny—he must become the pilot of Evangelion Unit-01 with the fate of mankind on his shoulders.

Written by Hideaki Anno, Neon Genesis Evangelion is a heroic tale of a young boy who will become a legend. But as this psychological drama unfolds, ancient secrets beneath the big picture begin to bubble to the surface…
*** ***
Ergo Proxy – 23 Episodes (2006)
Genre: Psychological, Mystery, Sci-Fi
Within the domed city of Romdo lies one of the last human civilizations on Earth. Thousands of years ago, a global ecological catastrophe doomed the planet; now, life outside these domes is virtually impossible. To expedite mankind's recovery, "AutoReivs," humanoid-like robots, have been created to assist people in their day-to-day lives. However, AutoReivs have begun contracting an enigmatic disease called the "Cogito Virus" which grants them self-awareness. Re-l Mayer, granddaughter of Romdo's ruler, is assigned to investigate this phenomenon alongside her AutoReiv partner Iggy. But what begins as a routine investigation quickly spirals into a conspiracy as Re-l is confronted by humanity's darkest sins.
Elsewhere in Romdo, an AutoReiv specialist by the name of Vincent Law must also face his demons when surreal events begin occurring around him. Re-l, Iggy, Vincent, and the child AutoReiv named Pino, will form an unlikely faction as they struggle to uncover Romdo's mysteries and ultimately, discover the true purpose of the mythical beings called "Proxies."
*** ***
Top wo Nerae! Gunbuster (Gunbuster) – 6 Episodes (1988-1989)
Genre: Action, Comedy, Drama, Mecha, Military, Sci-Fi, Shounen, Space
In the near future, humanity has taken its first steps towards journeying into the far reaches of the galaxy. Upon doing so they discover a huge race of insectoid aliens known as "Space Monsters." These aliens seem dedicated to the eradication of mankind as they near closer and closer to discovering Earth. In response, humanity develops giant fighting robots piloted by hand-picked youth from around the world.
Shortly after the discovery of the aliens, Noriko Takaya, the daughter of a famous deceased space captain, enters a training school despite her questionable talents as a pilot. There, she meets her polar opposite, the beautiful and talented Kazumi Amano, and is unexpectedly made to work together with her as they attempt to overcome the trauma of war as well as their own emotions.
***
Top wo Nerae 2! Diebuster (Gunbuster 2) – 6 Episodes (2004-2006)
Genre: Action, Sci-Fi, Space, Comedy, Drama, Mecha
Generations have passed since the war with the Space Monsters started, and none remain who know how it began, with even records of those times being scarce. It is a lost cause, but humanity still fights against them, relying on the "Topless": a group of elite space pilots with special powers that allow them to use the Buster Machines—the last hope against the Space Monsters.
Nono, a girl from a remote Martian town, has heard tales all her life of the legendary pilot "Nono-Riri," and wants nothing more than to leave her humble life behind and follow in the footsteps of her idol. Though she has no idea of the dangers that lie ahead, nothing will stop her from achieving her dream. While Nono is down on her luck, she chances upon the lonesome Topless pilot Lal'C Melk Mark, and decides to stake her entire future on following Lal'C, no matter the cost.
*** ***
Ginga Eiyuu Densetsu (Legend of the Galactic Heroes) – 110 Episodes (1988 – 1997)
Genre: Military, Sci-Fi, Space, Drama
The 150-year-long stalemate between the two interstellar superpowers, the Galactic Empire and the Free Planets Alliance, comes to an end when a new generation of leaders arises: the idealistic military genius Reinhard von Lohengramm, and the FPA's reserved historian, Yang Wenli.
While Reinhard climbs the ranks of the Empire with the aid of his childhood friend, Siegfried Kircheis, he must fight not only the war, but also the remnants of the crumbling Goldenbaum Dynasty in order to free his sister from the Kaiser and unify humanity under one genuine ruler. Meanwhile, on the other side of the galaxy, Yang—a strong supporter of democratic ideals—has to stand firm in his beliefs, despite the struggles of the FPA, and show his pupil, Julian Mintz, that autocracy is not the solution.
As ideologies clash amidst the war's many casualties, the two strategic masterminds must ask themselves what the real reason behind their battle is.
*** ***
Kakumeiki Valvrave (Valvave the Liberator) – 2 x 12 Episode Seasons (2013)
Genres: Action, Military, Space, Mecha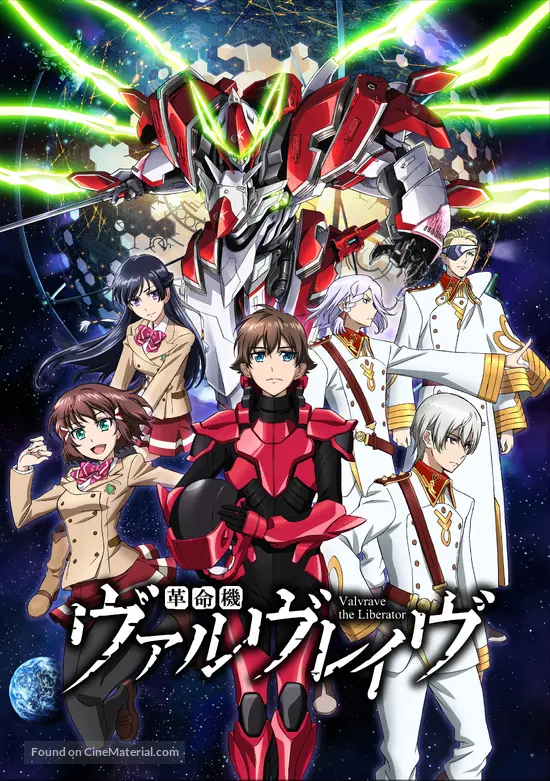 In the 71st year of the True Era, humans have successfully expanded into space and have started living in independent galactic colonies. The world itself is split between two major nations: the Atlantic Rim United States (ARUS) and the Dorssia Military Pact Federation (Dorssia)—superpowers that wage war against each other on Earth and far into outer space. In this war-torn era, a third faction comprised of Japan and Islands of the Oceanian Republic (JIOR), reside peacefully and prosper economically, maintaining neutrality between themselves and their militant neighbors.

Kakumeiki Valvrave commences in an outer space JIOR colony, where 17-year-old Haruto Tokishima's peaceful life is turned upside down as a sudden Dorssian fleet breaches the neutral colony. Their objective is to seize the Valvraves: powerful, but rumored mechanized weapons hidden deep within Haruto's school, Sakimori Academy. In the ensuing chaos, Haruto stumbles upon one of the targeted Valvraves. With his friends' lives in peril, Haruto enters the mecha and seals a contract for its power in exchange for his humanity. With the aid of L-elf—an enigmatic Dorssian agent and gifted strategist—Haruto and the Valvrave initiate a revolution to liberate the world.
**
Have you seen any of these? What are your favourite Sci-Fi anime and any recommendations for others that I should check out?
Rowena