Hello,
I'm back with Webcomic Wednesday. I'm relatively new to web comics so I reached out to some of my Sunday D&D group who are much more aware of that scene to get some recommendations, and they had a lot, so today I am going to look at ten webcomics that I'm going to read and feature on these WW throughout the year.
Thistil Mistil Kistil – Sarah Schanze
About:
Thistil Mistil Kistil is a fantasy adventure webcomic about vikings and Norse mythology. It follows Coal, a recently deceased warrior, as he joins forces with Loki to collect missing pieces of the gods' weapons. Along the way they meet Hedda, an ex-slave, Ibrahim, a young scholar, and Arne, an adopted skraeling. The comic updates every week on Thursdays.
The artist and writer, Sarah Schanze, is a chocolate milk aficionado who likes to collect dragon figurines, ticket stubs, and certain kinds of dolls. Sometimes she also draws.
Links:
Website | Twitter | Tumblr | Goodreads | Patreon
***** ***** *****
Lady of the Shard – Gigi d.g
About:
Lady of the Shard is a comic about an acolyte in love with the goddess she serves.
Note: This comic contains content that may be objectionable to some readers. Discretion is advised.
---
[Spoilers] Content warnings include:
body horror imagery
sexualized manipulation/mind control
forgiveness for an abusive character
Links:
***** ***** *****
Punderworld – Sigeel
About:
Hades' and Persephone's love-struck misadventures. (up every 3 weeks on a Thursday)
Links:
Webtoon | Tapas | Deviant Art | Patreon
***** ***** *****
Kochab – Sarah Webb
About:
Kochab is a YA f/f fantasy comic about two girls lost in a pile of ruins under the woods, inspired by various myths and fairytales.
The story follows Sonya, a lost skier trying to survive a snowy wilderness and find her way back to her village, and Kyra – a fire spirit trying to fix the home that she's let fall apart around her.
Links:
Website | Twitter | Tumblr | Portfolio | Ko-fi
***** ***** *****
Daughter of the Lilies – Meg Syverud & Jessica "Yoko" Weaver
About:
Thistle is just your average masked mage with a mysterious power, an enigmatic past, and, of course, the great burden of Destiny on her shoulders. She's chased out of every town with torches and pitchforks when the locals see her face, and is eagerly sought after by a great and terrible figure who defines most of her dark thoughts towards herself. Out of a desperate need to make a quick buck so she can move on to a new quiet place to live, she joins up with a small band of Mercenaries, but quickly finds herself unwittingly swept up in and caught off guard by their bonds of loyalty.
Will these unruly, uncultured, rough-around-the-edge fighters be the ones to help Thistle realize her sense of self-worth in time to stop the shadows of her past from overwhelming and consuming the world?
Time will tell, I suppose.
Daughter of the Lilies is a comic largely about the importance self-worth, the different forms love can take, how it can redeem and empower us, as well as issues relating to anxiety. (There are also unicorns, manticores, ghouls, goblins, cannibalistic elves, dragons, gods, fairies, ghosts, werewolves, demons, angels, and so on.)   
Links:
***** ***** *****
Godslave – Meaghan Carter
About:
Godslave is about girl thrown into the drama and danger of modern day Egyptian Mythology!
The story follows Edith after breaking a canopic jar open and finding– an animal inside?? That's alive??? Even crazier, the animal claims to be Anubis and tasks her with retrieving his missing 8 Ba to return him back to his true form. She fights the monsters protecting his ba, and the rest of his divine family drama
Links:
***** ***** *****
Snarlbear – Natalie Riess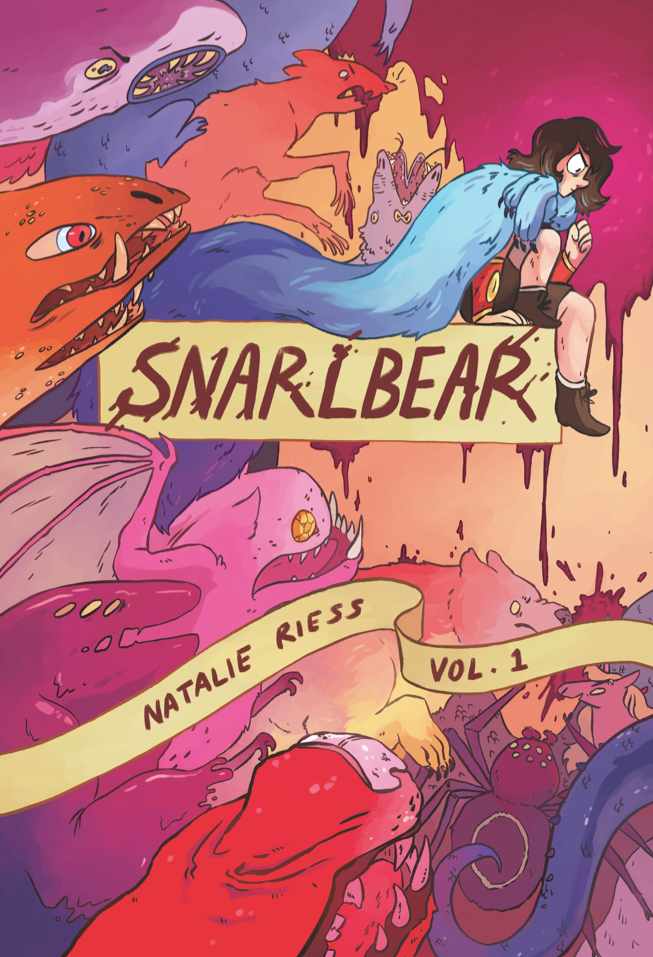 About:
 SNARLBEAR is a comic about a girl's journey through the dangerous and colorful Rainbow Dimension. On the way she learns about the power of friendship and monster punching.
Links:
***** ***** *****
Stand Still Stay Silent – Minna Sundberg
About:
It's been 90 years after the end of the old world. Most of the surviving population of the Known world live in Iceland, the largest safe area in existence, while the safe settlements in the other Nordic countries; Norway, Sweden, Denmark and Finland, are small and scarce.
Countless mysterious and unspoken dangers lurk outside the safe areas, the Silent world, and hunters, mages and cleansers will spend their lives defending the settlements against the terrifying beings. Because of a great fear towards everything in the Silent world no official attempts to explore the ruins of the old have been made, and most of the information about it has turned into ancient lore, known by few.
But now, at last, it is time to send out an research crew into the great unknown! A poorly funded and terribly unqualified crew, but a crew nonetheless.
Links:
Website | Twitter | Facebook | Instagram
***** ***** *****
Unsounded – Ashley Cope
About:
Some dead men tell tales, and some little girls have tails…
Daughter of the Lord of Thieves, Sette Frummagem is on a mission, and she'll lie, cheat, and steal to make sure it's a success (she'll lie, cheat, and steal anyway). Condemned to aid her in her rotten endeavours is a rotten corpse who seems oddly talented with the supernatural, and oddly not laying motionless in the dirt.
The road is long and no one is what they seem. Never trust a thief, and never trust anyone who won't let you look into their eyes.
Links:
***** ***** *****
Swords Comic – Matthew Wills
About:
What's it about? Swords! Sometimes the stories are connected, sometimes they aren't, but they're always about sharp things that are good for stabbing soft people with.
Links:
***** ***** *****