Hello!
There was no Map Madness this week due to WP deciding to eat my draft, and I unfortunately didn't have time to redo it – so that post will be up next week. However, continuing with the weekly features and bringing back an old feature – the same week I was told that hopefully Project Anime, the anime society at my old university should be going back to in person showings – it's Animanga Friday.
At the moment, I am currently watching Re-Main which is currently airing and is a sports anime about Water Polo (this is how to get me interested in a sport, make an anime about it) with a protagonist who is suffering from amnesia due to being in a (non-sport related) accident and I'm doing a rewatch of Fairy Tail with some friends. In terms of manga, I currently have these three on my netgalley shelf – and I intend to review them next week.
For this week though I have a review of 91 Days a fantastic prohibition era anime, and with all the kids heading back to school this weeks 3 Recommendations are all school-based anime.
Summary:
As a child living in the town of Lawless, Angelo Lagusa has witnessed a tragedy: his parents and younger brother have been mercilessly slaughtered by the Vanetti mafia family. Losing everything he holds dear, he leaves both his name and hometown behind, adopting the new identity of Avilio Bruno.

Seven years later, Avilio finally has his chance for revenge when he receives a mysterious letter prompting him to return to Lawless. Obliging, he soon encounters the Vanetti don's son, Nero, and seeks to befriend him using the skills he has quietly honed for years.

Set during the Prohibition era, 91 Days tells the story of Avilio's dark, bloodstained path to vengeance, as he slowly ends each of the men involved in the killing of his family.
*****
The Review:
I have always been fascinated by the Prohibition Era and everything that entails, and so when I first heard about 91 Days I knew I had to watch it, and it's one that I've loved ever since. At its heart 91 Days is a revenge story set against the backdrop of everything this period entails, following Avilio as he seeks vengeance for the betrayal and murder of his family at the hand of his mafia. In this way at least, it is fairly predictable both in its features and in the plot as we watch Avilio trying to move into position against his prey – but even if this anime had just stuck with that it would have been a great story. The animation fits the mood of the piece, although it can be a little clunky in places, while the music was spot on – menacing and capturing the feel of older gangster movies, while the opening has stuck with me all this time.
However, while that revenge story is always there and driving Avilio and the plot forward, 91 Days goes beyond that. For one, it explores the conflict of pursuing revenge against those you've grown close to, and some of the best moments are watching Avilio's growing friendship with Nero and the conflict that gives, the question of what you are willing to do and who you're willing to sacrifice to get revenge. It also explores the idea that there are worse things than death, and revenge can take many forms.
It adds an extra dimension to the story that I really enjoyed, and it works so well because of another strength of this anime – and that is the characters and moreover their emotions. From the animation that does such a good job of catching the expressions and body language fueled by those emotions to the choices and interactions, and just down to the characters themselves – this anime hits home and even though many of these characters are not 'good' you can't help but become invested in them. Avilio is a great example of this, even though he is good at concealing his emotions for the most part – but those moments when his mask slips are some of the best moments of characterisation, and I love the contrast with Nero. Corteo however, is the character that captured my heart – and is the best example of how even those who are innocent are not safe in this world.
Trust is virtually unknown in this world. Family is the most important thing but also a bargaining chip when needed, but even that largely consists of strained bonds and lies, it's just hidden behind pretty words and a façade of closeness and trust. 91 Days does a great job, not only of showing both sides of that coin but of revealing what lies behind the curtain at the most surprising moment. What are good people? Avilio was a good person, and yet he wants revenge and is willing to do what it takes to get there. Nero is a 'good guy' charismatic and friendly, but he's part of the Mafia and everything that entails. Corteo is perhaps the closest we get to a good person, but even he is pulled into that world and sees opportunity there. Is that a flaw in the characters? Or is it the product of the world? Is it possible to be a good person in a world where trust is often little more than an illusion?
There's plenty of action in this one, and violence and blood. But, what really made it shine for me was the mind games. Everyone in 91 Days is after something – whether it's just eeking out a livelihood, getting revenge, power and profit – and anything and everything can and will be used to reach those goals. We see it in Avilio's quest for revenge, as friends are used as pawns, as he draws others in to misdirect. We see it as alliances are arranged and broken. The anime keeps you on your toes from start to finish, as all the plays progress and just as you think a character is caught in a web, you'll realise that's actually just part of a different web and it keeps everything quite tightly tied together, and leaves you on the edge of your seat waiting to find out what will happen.
The ending of this one leaves me a little conflicted. On the one hand, I finished 91 Days ultimately satisfied – it was an emotional ride, and the conclusion was almost expected even if the path there hadn't been, and yet on the other end it felt almost abrupt? Not in that it happened suddenly, but rather that everything was brought to a crescendo – and then it ended. In many ways the ending works, and makes perfect sense for the characters involved, on the other hand, I would have liked a little more?
91 Days is a great anime, not perfect by any means, but it is one that I continue to rewatch quite regularly and it still manages to hit me in the feels every time. It's also one that feels as though it was unfortunately under the radar when it came out, and I would really love to see it become more well known. As long as you don't mind a bit (or a lot) of violence and blood, this is really a wonderful exploration of the dark side of people, and perfect for anyone who enjoys the Prohibition Era and gangster stories, with a good layering of emotion and characters that you can't help but be invested in.
Danshi Koukousei no Nichijou (Daily Lives of High School Boys)
Genre: Slice of Life, Comedy, School
Synopsis:
Roaming the halls of the all-boys Sanada North High School are three close comrades: the eccentric ringleader with a hyperactive imagination Hidenori, the passionate Yoshitake, and the rational and prudent Tadakuni. Their lives are filled with giant robots, true love, and intense drama… in their colorful imaginations, at least. In reality, they are just an everyday trio of ordinary guys trying to pass the time, but who said everyday life couldn't be interesting? Whether it's an intricate RPG reenactment or an unexpected romantic encounter on the riverbank at sunset, Danshi Koukousei no Nichijou is rife with bizarre yet hilariously relatable situations that are anything but mundane.
*****
Orange
Genre: Sci-Fi, Drama, Romance, School, Shoujo
Synopsis:
Naho Takamiya's first day of her sophomore year of high school is off to an uneasy start. After waking up late, she receives a strange letter addressed to her. However, the letter is from herself—10 years in the future! At first, Naho is skeptical of the note; yet, after witnessing several events described to take place, she realizes the letter really is from her 26-year-old self.
The note details that Naho's future life is filled with regrets, and she hopes that her younger self can correct the mistakes that were made in the past. The letter also warns her to keep a close eye on the new transfer student, Kakeru Naruse. Naho must be especially careful in making decisions involving him, as Kakeru is not around in the future. With the letter as her guide, Naho now has the power to protect Kakeru before she comes to regret it once more.
*****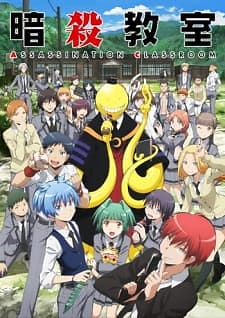 Ansatsu Kyoushitsu (Assassination Classroom)
Genre: Action, Comedy, School, Shounen
Synopsis:
When a mysterious creature chops the moon down to a permanent crescent, the students of class 3-E of Kunugigaoka Middle School find themselves confronted with an enormous task: assassinate the creature responsible for the disaster before Earth suffers a similar fate. However, the monster, dubbed Koro-sensei (the indestructible teacher), is able to fly at speeds of up to Mach 20, which he demonstrates freely, leaving any attempt to subdue him in his extraterrestrial dust. Furthermore, the misfits of 3-E soon find that the strange, tentacled beast is more than just indomitable—he is the best teacher they have ever had!

Adapted from the humorous hit manga by Yuusei Matsui, Ansatsu Kyoushitsu tells the story of these junior high pupils as they polish their assassination skills and grow in order to stand strong against the oppressive school system, their own life problems, and one day, Koro-sensei.
**