Hello,
Jodie across at Witty & Sarcastic blog came up with this 'Dungeons and Dragons book tag' and while I have a book version in the works, I wanted to have a go at it with animes/anime characters and here we are.
Please consider yourself tagged if you fancy doing the tag, just credit Jodie as the creator.
Originally there were going to be explanations for why I chose each anime / film, but I have lost huge chunks of this post three times now thanks to train wifi and wordpresses ability to save not mixing. What I will say is that I recommend all these anime – even OPM which wasn't entirely my cup of tea. Some of them, it was a particular character that matched the prompt, others it was the entire plot/vibe of the show, and as often the case with anime that tick multiple genre boxes many of these anime could have also filled in other prompts.
Barbarian: In a simplified nutshell, barbarians are fighters whose anger can give them a berserker state of mind: think an overdose of adrenalin allowing someone to do the nigh impossible.
Name a character with a temper:
Kill la Kill – Ryuuko Matoi (24 eps)
After the murder of her father, Ryuuko Matoi has been wandering the land in search of his killer. Following her only lead—the missing half of his invention, the Scissor Blade—she arrives at the prestigious Honnouji Academy, a high school unlike any other. The academy is ruled by the imposing and cold-hearted student council president Satsuki Kiryuuin alongside her powerful underlings, the Elite Four. In the school's brutally competitive hierarchy, Satsuki bestows upon those at the top special clothes called "Goku Uniforms," which grant the wearer unique superhuman abilities.
Thoroughly beaten in a fight against one of the students in uniform, Ryuuko retreats to her razed home where she stumbles across Senketsu, a rare and sentient "Kamui," or God Clothes. After coming into contact with Ryuuko's blood, Senketsu awakens, latching onto her and providing her with immense power. Now, armed with Senketsu and the Scissor Blade, Ryuuko makes a stand against the Elite Four, hoping to reach Satsuki and uncover the culprit behind her father's murder once and for all.
****
Boku no Hero Academia | My Hero Academia – Katsuki Bakugou (12 eps – Season 1)
The appearance of "quirks," newly discovered super powers, has been steadily increasing over the years, with 80 percent of humanity possessing various abilities from manipulation of elements to shapeshifting. This leaves the remainder of the world completely powerless, and Izuku Midoriya is one such individual.
Since he was a child, the ambitious middle schooler has wanted nothing more than to be a hero. Izuku's unfair fate leaves him admiring heroes and taking notes on them whenever he can. But it seems that his persistence has borne some fruit: Izuku meets the number one hero and his personal idol, All Might. All Might's quirk is a unique ability that can be inherited, and he has chosen Izuku to be his successor!
Enduring many months of grueling training, Izuku enrolls in UA High, a prestigious high school famous for its excellent hero training program, and this year's freshmen look especially promising. With his bizarre but talented classmates and the looming threat of a villainous organization, Izuku will soon learn what it really means to be a hero.
****
Mob Psycho 100 – Shigeo 'Mob' Kageyama (12 eps – Season 1)
Eighth-grader Shigeo "Mob" Kageyama has tapped into his inner wellspring of psychic prowess at a young age. But the power quickly proves to be a liability when he realizes the potential danger in his skills. Choosing to suppress his power, Mob's only present use for his ability is to impress his longtime crush, Tsubomi, who soon grows bored of the same tricks.
In order to effectuate control on his skills, Mob enlists himself under the wing of Arataka Reigen, a con artist claiming to be a psychic, who exploits Mob's powers for pocket change. Now, exorcising evil spirits on command has become a part of Mob's daily, monotonous life. However, the psychic energy he exerts is barely the tip of the iceberg; if his vast potential and unrestrained emotions run berserk, a cataclysmic event that would render him completely unrecognizable will be triggered. The progression toward Mob's explosion is rising and attempting to stop it is futile.
Bard: Bards use music and song to either help or hinder. Music is massively important to them, and can give them power.
Name a book/character for which music is important:
Sakamichi no Apollon | Kids on the Slope (12 eps)
Introverted classical pianist and top student Kaoru Nishimi has just arrived in Kyushu for his first year of high school. Having constantly moved from place to place since his childhood, he abandons all hope of fitting in, preparing himself for another lonely, meaningless year. That is, until he encounters the notorious delinquent Sentarou Kawabuchi.

Sentarou's immeasurable love for jazz music inspires Kaoru to learn more about the genre, and as a result, he slowly starts to break out of his shell, making his very first friend. Kaoru begins playing the piano at after-school jazz sessions, located in the basement of fellow student Ritsuko Mukae's family-owned record shop. As he discovers the immense joy of using his musical talents to bring enjoyment to himself and others, Kaoru's summer might just crescendo into one that he will remember forever.

Sakamichi no Apollon is a heartwarming story of friendship, music, and love that follows three unique individuals brought together by their mutual appreciation for jazz.
****
Given (11 eps)
Tightly clutching his Gibson guitar, Mafuyu Satou steps out of his dark apartment to begin another day of his high school life. While taking a nap in a quiet spot on the gymnasium staircase, he has a chance encounter with fellow student Ritsuka Uenoyama, who berates him for letting his guitar's strings rust and break. Noticing Uenoyama's knowledge of the instrument, Satou pleads for him to fix it and to teach him how to play. Uenoyama eventually agrees and invites him to sit in on a jam session with his two band mates: bassist Haruki Nakayama and drummer Akihiko Kaji.
Satou's voice is strikingly beautiful, filling Uenoyama with the determination to make Satou the lead singer of the band. Though reticent at first, Satou takes the offer after an emotional meeting with an old friend. With the support of his new friends, Satou must not only learn how to play guitar, but also come to terms with the mysterious circumstances that led him to be its owner.
****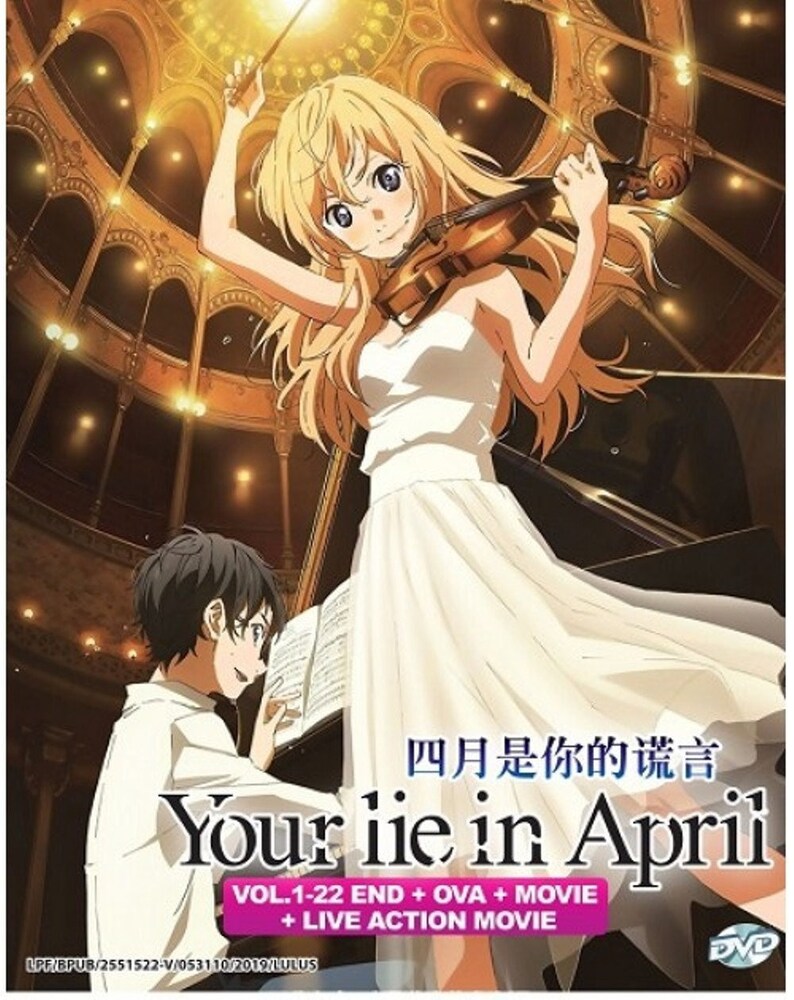 Shigatsu wa Kimi no Uso | Your Lie in April (22 eps)
Kousei Arima is a child prodigy known as the "Human Metronome" for playing the piano with precision and perfection. Guided by a strict mother and rigorous training, Kousei dominates every competition he enters, earning the admiration of his musical peers and praise from audiences. When his mother suddenly passes away, the subsequent trauma makes him unable to hear the sound of a piano, and he never takes the stage thereafter.
Nowadays, Kousei lives a quiet and unassuming life as a junior high school student alongside his friends Tsubaki Sawabe and Ryouta Watari. While struggling to get over his mother's death, he continues to cling to music. His monochrome life turns upside down the day he encounters the eccentric violinist Kaori Miyazono, who thrusts him back into the spotlight as her accompanist. Through a little lie, these two young musicians grow closer together as Kaori tries to fill Kousei's world with color.
Cleric: "A priestly champion who wields divine magic in service of a higher power" (D&D Player's Handbook)
Name a book/character for which religion plays a large role:
Hai to Gensou no Grimgar | Grimgar of Fantasy and Ash – Merry (12 eps)

Fear, survival, instinct. Thrown into a foreign land with nothing but hazy memories and the knowledge of their name, they can feel only these three emotions resonating deep within their souls. A group of strangers is given no other choice than to accept the only paying job in this game-like world—the role of a soldier in the Reserve Army—and eliminate anything that threatens the peace in their new world, Grimgar.
When all of the stronger candidates join together, those left behind must create a party together to survive: Manato, a charismatic leader and priest; Haruhiro, a nervous thief; Yume, a cheerful hunter; Shihoru, a shy mage; Moguzo, a kind warrior; and Ranta, a rowdy dark knight. Despite its resemblance to one, this is no game—there are no redos or respawns; it is kill or be killed.
It is now up to this ragtag group of unlikely fighters to survive together in a world where life and death are separated only by a fine line.
****
Saiyuuki Gaiden (3 eps – OVA)
In their former lives, 500 years before Genjyo Sanzo and his crew of misfits began their journey west, they were gods, but being godly didn't make them act any more divine. When Goku flies into a murderous rage after seeing his best friend die, Heaven's had enough and wants him dead! But Konzen Douji, Field Marshal Tenpou, and General Kenren are willing to do anything to protect Goku, even if it means turning all of Heaven against them.
****
Noragami (12 eps – season 1)
In times of need, if you look in the right place, you just may see a strange telephone number scrawled in red. If you call this number, you will hear a young man introduce himself as the Yato God.
Yato is a minor deity and a self-proclaimed "Delivery God," who dreams of having millions of worshippers. Without a single shrine dedicated to his name, however, his goals are far from being realized. He spends his days doing odd jobs for five yen apiece, until his weapon partner becomes fed up with her useless master and deserts him.
Just as things seem to be looking grim for the god, his fortune changes when a middle school girl, Hiyori Iki, supposedly saves Yato from a car accident, taking the hit for him. Remarkably, she survives, but the event has caused her soul to become loose and hence able to leave her body. Hiyori demands that Yato return her to normal, but upon learning that he needs a new partner to do so, reluctantly agrees to help him find one. And with Hiyori's help, Yato's luck may finally be turning around.
Druid: Druids are representative of nature. They get their power- healing, magical spells, etc.- from either the land itself or from a nature deity.
Name a Book where nature plays an important role:
Akagami no Shirayukihime | Snow White with the Red Hair (12 eps – season 1)
Although her name means "snow white," Shirayuki is a cheerful, red-haired girl living in the country of Tanbarun who works diligently as an apothecary at her herbal shop. Her life changes drastically when she is noticed by the silly prince of Tanbarun, Prince Raji, who then tries to force her to become his concubine. Unwilling to give up her freedom, Shirayuki cuts her long red hair and escapes into the forest, where she is rescued from Raji by Zen Wistalia, the second prince of a neighboring country, and his two aides. Hoping to repay her debt to the trio someday, Shirayuki sets her sights on pursuing a career as the court herbalist in Zen's country, Clarines.

Akagami no Shirayuki-hime depicts Shirayuki's journey toward a new life at the royal palace of Clarines, as well as Zen's endeavor to become a prince worthy of his title. As loyal friendships are forged and deadly enemies formed, Shirayuki and Zen slowly learn to support each other as they walk their own paths.
****
Mahoutsukai no Yome | The Ancient Magus Bride (24 eps – season 1)
Chise Hatori, a 15-year-old Japanese girl, was sold for five million pounds at an auction to a tall masked gentleman. Abandoned at a young age and ridiculed by her peers for her unconventional behavior, she was ready to give herself to any buyer if it meant having a place to go home to. In chains and on her way to an unknown fate, she hears whispers from robed men along her path, gossiping and complaining that such a buyer got his hands on a rare Sleigh Beggy.
Ignoring the murmurs, the mysterious man leads the girl to a study, where he reveals himself to be Elias Ainsworth—a magus. After a brief confrontation and a bit of teleportation magic, the two open their eyes to Elias' picturesque cottage in rural England. Greeted by fairies and surrounded by weird and wonderful beings upon her arrival, these events mark the beginning of Chise's story as the apprentice and supposed bride of the ancient magus.
****
Mushishi (26 eps – season 1)
"Mushi": the most basic forms of life in the world. They exist without any goals or purposes aside from simply "being." They are beyond the shackles of the words "good" and "evil." Mushi can exist in countless forms and are capable of mimicking things from the natural world such as plants, diseases, and even phenomena like rainbows.
This is, however, just a vague definition of these entities that inhabit the vibrant world of Mushishi, as to even call them a form of life would be an oversimplification. Detailed information on Mushi is scarce because the majority of humans are unaware of their existence.
So what are Mushi and why do they exist? This is the question that a "Mushishi," Ginko, ponders constantly. Mushishi are those who research Mushi in hopes of understanding their place in the world's hierarchy of life.
Ginko chases rumors of occurrences that could be tied to Mushi, all for the sake of finding an answer.
It could, after all, lead to the meaning of life itself.
Fighter: A fighter relies on physical skill. They are often good with a weapon and can function as a pretty good meat shield.
Name a book with great fight scenes:
Claymore (26 eps)
When a shapeshifting demon with a thirst for human flesh, known as "youma," arrives in Raki's village, a lone woman with silver eyes walks into town with only a sword upon her back. She is a "Claymore," a being manufactured as half-human and half-youma, for the express purpose of exterminating these monsters. After Raki's family is killed, the Claymore saves his life, but he is subsequently banished from his home. With nowhere else to go, Raki finds the Claymore, known as Clare, and decides to follow her on her journeys.
As the pair travel from town to town, defeating youma along the way, more about Clare's organization and her fellow warriors comes to light. With every town cleansed and every demon destroyed, they come closer to the youma on which Clare has sought vengeance ever since she chose to become a Claymore.
****
Dororo to Hyakkimaru | Dororo (24 eps)
The greedy samurai lord Daigo Kagemitsu's land is dying, and he would do anything for power, even renounce Buddha and make a pact with demons. His prayers are answered by 12 demons who grant him the power he desires by aiding his prefecture's growth, but at a price. When Kagemitsu's first son is born, the boy has no limbs, no nose, no eyes, no ears, nor even skin—yet still, he lives.
This child is disposed of in a river and forgotten. But as luck would have it, he is saved by a medicine man who provides him with prosthetics and weapons, allowing for him to survive and fend for himself. The boy lives and grows, and although he cannot see, hear, or feel anything, he must defeat the demons that took him as sacrifice. With the death of each one, he regains a part of himself that is rightfully his. For many years he wanders alone, until one day an orphan boy, Dororo, befriends him. The unlikely pair of castaways now fight for their survival and humanity in an unforgiving, demon-infested world.
****
Bungou Stray Dogs (12 eps – season 1)
For weeks, Atsushi Nakajima's orphanage has been plagued by a mystical tiger that only he seems to be unaware of. Suspected to be behind the strange incidents, the 18-year-old is abruptly kicked out of the orphanage and left hungry, homeless, and wandering through the city.
While starving on a riverbank, Atsushi saves a rather eccentric man named Osamu Dazai from drowning. Whimsical suicide enthusiast and supernatural detective, Dazai has been investigating the same tiger that has been terrorizing the boy. Together with Dazai's partner Doppo Kunikida, they solve the mystery, but its resolution leaves Atsushi in a tight spot. As various odd events take place, Atsushi is coerced into joining their firm of supernatural investigators, taking on unusual cases the police cannot handle, alongside his numerous enigmatic co-workers.
Magic Users: Dungeons and Dragons features Warlocks, Wizards, and Sorcerers. Each is different, but I'm lumping them together for the purposes of this tag. The name is self-explanatory: a user of magic.
Name a book or character with cool magic:
Fairy Tail (175 eps)
In the enchanted Kingdom of Fiore, the lively Lucy Heartfilia has one wish: to join the renowned Fairy Tail—one of the many magical wizard guilds scattered around the continent. Luckily, a chance encounter with Natsu Dragneel, the "Salamander" of Fairy Tail, whisks her into the legendary guild.
From Natsu's rivalrous antics with ice wizard Gray Fullbuster to the frightening presence of the unmatched combat goddess Erza Scarlet, Fairy Tail's powerful mages have a slight penchant for trouble. Through all the lucrative odd jobs and adventures to save the world from destruction lies an absolute and unyielding trust stronger than family that has formed between each guild member.
Teaming up with Natsu, Gray, and Erza, Lucy finds herself amidst the guild's most misfit wizards. But as they constantly stand in the eye of every danger, there is one name that never ceases to resurface: Zeref, the feared master of dark magic.
****
Genei wo Kakeru Taiyou | Day Break Illusion (13 eps)
Akari Taiyou is an apprentice fortune teller living with her aunt, uncle, and their daughter Fuyuna. Having lost her mother at a young age, the only thing Akari has left of her is a deck of tarot cards and a dream to follow in her footsteps as a fortune teller.
One night, Akari has a dream of being attacked by a plant monster and witnesses a stronger version of herself defeat it. When she awakens, she discovers to her horror that the monster was actually Fuyuna. But mysteriously, Akari and her relatives soon forget Fuyuna ever existed. After another close encounter with a similar monster, she is rescued by three magical girls: Ginka Shirokane, Seira Hoshikawa, and Luna Tsukuyomi. They explain that they are from the Sefiro Fiore organization, which uses Elemental Tarot power to fight the evil creatures known as "Daemonia."
Akari discovers she too is a magical girl and has inherited her mother's power of The Sun card. However, she comes to realize Daemonia are actually people who have been possessed, and she must decide whether to try to save what is left of their humanity or to wipe them from existence. As Akari comes to terms with her grim duty of protecting the world from Daemonia, the bonds of the organization and that of their team will soon be strained when they deal with grave threats from the outside and from within.
****
Little Witch Academia (25 eps)
"A believing heart is your magic!"—these were the words that Atsuko "Akko" Kagari's idol, the renowned witch Shiny Chariot, said to her during a magic performance years ago. Since then, Akko has lived by these words and aspired to be a witch just like Shiny Chariot, one that can make people smile. Hence, even her non-magical background does not stop her from enrolling in Luna Nova Magical Academy.

However, when an excited Akko finally sets off to her new school, the trip there is anything but smooth. After her perilous journey, she befriends the shy Lotte Yansson and the sarcastic Sucy Manbavaran. To her utmost delight, she also discovers Chariot's wand, the Shiny Rod, which she takes as her own. Unfortunately, her time at Luna Nova will prove to more challenging than Akko could ever believe. She absolutely refuses to stay inferior to the rest of her peers, especially to her self-proclaimed rival, the beautiful and gifted Diana Cavendish, so she relies on her determination to compensate for her reckless behavior and ineptitude in magic.

In a time when wizardry is on the decline, Little Witch Academia follows the magical escapades of Akko and her friends as they learn the true meaning of being a witch.
Paladin: A holy warrior.
Saihate no Paladin | The Faraway Paladin (12 eps)
Born into a new world after a life of stagnancy, Will awakens to the faces of a skeleton, a ghost, and a mummy. Living in the ruins of a city long fallen, the three raise Will as their own. The skeleton— Blood—teaches him to fight; the ghost—Gus—teaches him magic; and the mummy—Mary—teaches him religion and responsibility. Most importantly, they all teach him love.
As Will grows up and learns about the world he was born into, he prepares for the day when he must finally set out on his own. For Will, this journey includes a lifelong promise. At their coming-of-age, every adult is required to swear an oath to the god of their choice, with the strength of the pledge affecting the degree of their sworn god's blessing.
With his departure approaching, Will must prepare to accept the truth of his undead guardians and embark into a world that even they don't know the state of. Will discovers, however, that every oath must be fulfilled, one way or another.
****
Dungeon ni Deai wo Motomeru no wa Machigatteiru Darou ka | Is it Wrong to Try to Pick up Girls in a Dungeon? (13 eps – season 1)
Life in the bustling city of Orario is never dull, especially for Bell Cranel, a naïve young man who hopes to become the greatest adventurer in the land. After a chance encounter with the lonely goddess, Hestia, his dreams become a little closer to reality. With her support, Bell embarks on a fantastic quest as he ventures deep within the city's monster-filled catacombs, known only as the "Dungeon." Death lurks around every corner in the cavernous depths of this terrifying labyrinth, and a mysterious power moves amidst the shadows.
Even on the surface, survival is a hard-earned privilege. Indeed, nothing is ever certain in a world where gods and humans live and work together, especially when they often struggle to get along. One thing is for sure, though: a myriad of blunders, triumphs and friendships awaits the dauntlessly optimistic protagonist of this herculean tale.
****
Rokka no Yuusha | Rokka: Braves of the Six Flowers – Mora Chester (12 eps)
An ancient legend states that with the revival of the Demon God, six heroes—the Braves of the Six Flowers—will be chosen by the Goddess of Fate, granting them power to rise up against the fiends attempting to turn the world into a living hell. Adlet Mayer, self-proclaimed "Strongest Man in the World," has arrived at the continent of Piena in hopes of becoming a Brave. Although it doesn't go as smoothly as he had planned, Adlet is ultimately chosen as one of the six heroes shortly after being greeted by Nashetania Loei Piena Augustra, crown princess and fellow Brave.

Rokka no Yuusha follows the two as they embark upon their destined journey to fight the Demon God, intending to meet up with their fellow heroes at a small temple outside of the Land of the Howling Demons, the fiends' domain. However, when they finally unite, seven heroes are present, and soon the others begin to suspect Adlet to be a fraud. Now on the run, Adlet must utilize his unique skill set and wit in a fight for his life to identify which member of the group is the true impostor before it's too late!
Ranger: Hunters, wilderness survivors, and protectors, rangers are often what stand between civilization and the monsters that live in the wild.
Name a character that is in tune with the wild.
Mononoke Hime | Princess Mononoke – San (Film)
When an Emishi village is attacked by a fierce demon boar, the young prince Ashitaka puts his life at stake to defend his tribe. With its dying breath, the beast curses the prince's arm, granting him demonic powers while gradually siphoning his life away. Instructed by the village elders to travel westward for a cure, Ashitaka arrives at Tatara, the Iron Town, where he finds himself embroiled in a fierce conflict: Lady Eboshi of Tatara, promoting constant deforestation, stands against Princess San and the sacred spirits of the forest, who are furious at the destruction brought by the humans. As the opposing forces of nature and mankind begin to clash in a desperate struggle for survival, Ashitaka attempts to seek harmony between the two, all the while battling the latent demon inside of him. Princess Mononoke is a tale depicting the connection of technology and nature, while showing the path to harmony that could be achieved by mutual acceptance.
****
Three hundred years ago, a genetic experiment gone wrong caused the mutation of all forests on Earth. Armed with consciousness, the vegetation sought to destroy all of humankind, and the war that ensued turned the planet into a hellish dystopia.
In the present day, Agito, a young boy, lives with his father in Neutral City—a village maintaining an uneasy truce with the neighboring forest. One day, Agito, on his way to collect water, becomes separated from his friend and stumbles upon a relic of the past: a girl sleeping in a mysterious machine.
Agito awakens the girl, Toola Cm Sacl, and introduces her to the village. But outside forces have ulterior motives for the girl, who holds the key to restore the Earth. Misguided by Shunack, a soldier from the old world hellbent on destroying the forest, Toola follows him despite Agito's warning. Determined to save Toola and unify humankind with the forest, Agito borrows the power of the forest and pursues her.
****
Kaijuu no Kodomo | Children of the Sea (Film)
Ruka Azumi's ordinary summer vacation revolves around spending all her time on the handball court to avoid her only housemate, her alcoholic mother. When an incident at practice leads to Ruka's exclusion from the handball team, she is forced to find other outlets to enjoy herself, eventually winding up at the aquarium where her father works. There, she meets Umi, a mysterious boy raised by dugongs who is being kept at the aquarium in order to research his strange water-dependent body.
Ruka and Umi become fast friends, and the pair is soon joined by Sora, Umi's brother who also has an unusual relationship with the ocean. Together, the trio explore a dazzling undersea world while learning about a peculiar "festival" that all sea creatures around the world are preparing for.
Rogue: Rogues use stealth and cunning to defeat their foes or prevail in a situation.
Name a book or character with cunning:
Ansatsu Kyōshitsu | Assassination Classroom (22 eps – Season 1)
Tucked in the mountains near the elite Kunugigaoka Middle School lies a small derelict building that houses the delinquents and dropouts of Class 3-E. Looked down upon by their peers, the students in this class appear to have little hope in advancing their academic careers. That is, until the national government tasks them with eliminating the greatest threat to their planet: their new teacher.
Having already destroyed the moon, the octopus-like professor—dubbed "Koro-sensei"—has now threatened to destroy the Earth by March of the following year. In light of their mission, the students have found that killing him is easier said than done. Not only can Koro-sensei move at speeds of up to Mach 20, but he can also resist almost every earthly weapon. Ironically, he also proves to be one of the best teachers Class 3-E has ever had. Training the class to excel in both their studies as students and skills as assassins, Koro-sensei is confident that his students' ingenuity and indomitable will could return them to the main campus.
Through trial and error, Nagisa Shiota, as well as the other students of Class 3-E, must figure out Koro-sensei's weaknesses—and fast, for the very fate of the world depends upon it.
****
Akame ga Kill (24 eps)
Night Raid is the covert assassination branch of the Revolutionary Army, an uprising assembled to overthrow Prime Minister Honest, whose avarice and greed for power has led him to take advantage of the child emperor's inexperience. Without a strong and benevolent leader, the rest of the nation is left to drown in poverty, strife, and ruin. Though the Night Raid members are all experienced killers, they understand that taking lives is far from commendable and that they will likely face retribution as they mercilessly eliminate anyone who stands in the revolution's way.

This merry band of assassins' newest member is Tatsumi, a naïve boy from a remote village who had embarked on a journey to help his impoverished hometown and was won over by not only Night Raid's ideals, but also their resolve. Akame ga Kill! follows Tatsumi as he fights the Empire and comes face-to-face with powerful weapons, enemy assassins, challenges to his own morals and values, and ultimately, what it truly means to be an assassin with a cause.

****
Code Geass: Hangyaku no Lelouch | Code Geass: Lelouch of the Rebellion (25 eps – season 1)
In the year 2010, the Holy Empire of Britannia is establishing itself as a dominant military nation, starting with the conquest of Japan. Renamed to Area 11 after its swift defeat, Japan has seen significant resistance against these tyrants in an attempt to regain independence.
Lelouch Lamperouge, a Britannian student, unfortunately finds himself caught in a crossfire between the Britannian and the Area 11 rebel armed forces. He is able to escape, however, thanks to the timely appearance of a mysterious girl named C.C., who bestows upon him Geass, the "Power of Kings." Realizing the vast potential of his newfound "power of absolute obedience," Lelouch embarks upon a perilous journey as the masked vigilante known as Zero, leading a merciless onslaught against Britannia in order to get revenge once and for all.
BONUS (I'm currently playing a Monk so had to include this)
Monk: Monks are united in their ability to magically harness the energy that flows in their bodies. Whether channeled as a striking display of combat prowess or a subtler focus of defensive ability and speed, this energy infuses all that a monk does.
Name a book or character who fights primarily with their fists, or by infusing their bodies with power.
One Punch Man (12 eps – Season 1)
The seemingly unimpressive Saitama has a rather unique hobby: being a hero. In order to pursue his childhood dream, Saitama relentlessly trained for three years, losing all of his hair in the process. Now, Saitama is so powerful, he can defeat any enemy with just one punch. However, having no one capable of matching his strength has led Saitama to an unexpected problem—he is no longer able to enjoy the thrill of battling and has become quite bored.
One day, Saitama catches the attention of 19-year-old cyborg Genos, who witnesses his power and wishes to become Saitama's disciple. Genos proposes that the two join the Hero Association in order to become certified heroes that will be recognized for their positive contributions to society. Saitama, who is shocked that no one knows who he is, quickly agrees. Meeting new allies and taking on new foes, Saitama embarks on a new journey as a member of the Hero Association to experience the excitement of battle he once felt.
*
I will be honest OPM is not my favourite anime, I'm not sure what it was about it that I didn't get on with. Although I have to admit that the opening song is a TUNE. But, I would be incredibly remiss not to include Saitama under the monk prompt, since he has literally channeled all his power into being able to de
****
Tiger & Bunny (25 eps – Season 1)
In Stern Bild City, those with special abilities are called "NEXT," and can use their powers for good or bad. A unique organized group of NEXT appear regularly on Hero TV, where they chase down evildoers to bring limelight to their sponsors and earn Hero Points in the hopes of becoming the next "King of Heroes."
Kotetsu T. Kaburagi, known as "Wild Tiger," is a veteran hero whose performance has been dwindling as of late, partially due to his inability to cooperate with other heroes. After a disappointing season in which most of the other heroes far outperformed Tiger, he is paired up with a brand new hero who identifies himself by his real name—Barnaby Brooks Jr.
Barnaby, nicknamed "Bunny" by his frivolous new partner, quickly makes it clear that the two could not be more different. Though they mix as well as oil and water, Tiger and Bunny must learn to work together, both for the sake of their careers and to face the looming threats within Stern Bild.
****
Durarara!
In Tokyo's downtown district of Ikebukuro, amidst many strange rumors and warnings of anonymous gangs and dangerous occupants, one urban legend stands out above the rest—the existence of a headless "Black Rider" who is said to be seen driving a jet-black motorcycle through the city streets.
Mikado Ryuugamine has always longed for the excitement of the city life, and an invitation from a childhood friend convinces him to move to Tokyo. Witnessing the Black Rider on his first day in the city, his wishes already seem to have been granted. But as supernatural events begin to occur, ordinary citizens like himself, along with Ikebukuro's most colorful inhabitants, are mixed up in the commotion breaking out in their city.